During early summer of 2017, we – Sarah and Niels – continued the apple adventures in a road trip to four wonderful places in France. In each of the places the trees were received with great care and hospitality, and we managed to come along and be treated likewise. In each place we documented the planting, and continued the dialogue/interview series. Our tree recipients and caretakers all offered great themes, reflections, insights and perspectives that we look forward to editing and arranging. Now we are sure that a beautiful book is going to emerge. This page is just a first selection of pictures.
(Read more here about the the beginnings of the apple tree project – and the apples and trees themselves)
8 June Departing from Denmark with 8 apple trees. The young man in the picture is Niels' son Carl Emil. He came along, with Solbjørk his girlfriend, to spend a week in Paris while Sarah and Niels toured France with the trees.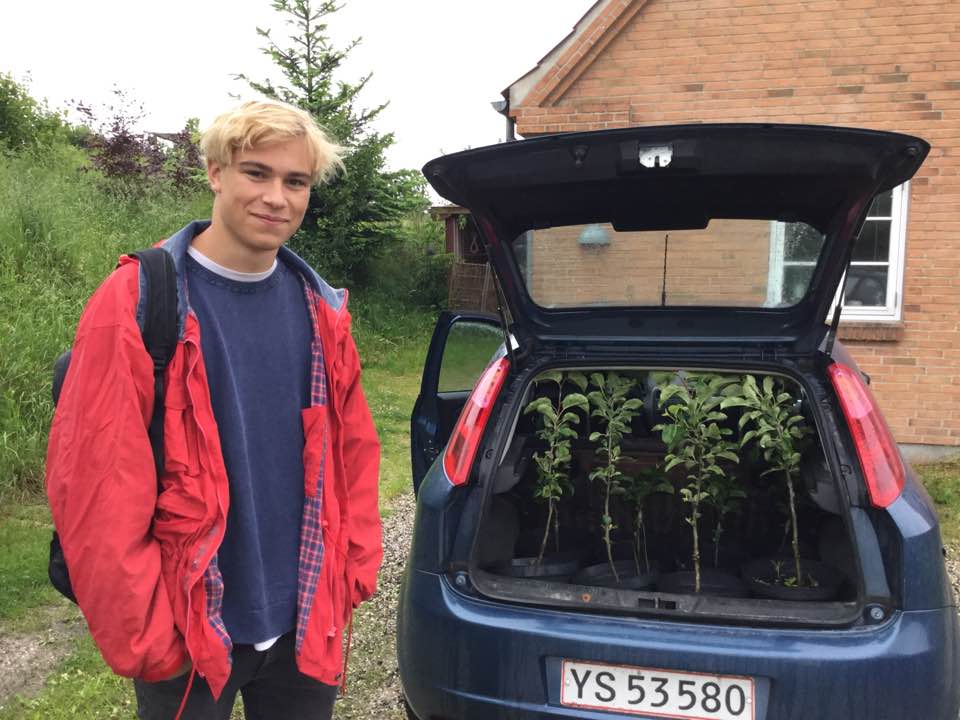 ---
9 June With David Hykes at his home and retreat place Pommereau in the Loire Valley.
David led us gracefully and generously through conversations and practices centered around the notions of "listening" and "accompanying" – a tree, (an)other human(s), oneself.
---
10 June With Bruno Latour at his summer house in Auvergne.
While planting his tree after carefully laying compost, Bruno talked about the "re-rooting" of life and thought – a process of developing relationships with the ground and land that are composite, not exclusionary, yet substantial…
---
11 June With Amy Varela at her summer house near Menerbes, Provence
Amy echoed her friend Bruno by pointing to grafting as an act of undoing a root's identity, to better "re-root". She also opened the conversation onto the meaning of a "home", as a relationship or set of relationships.
---
12 June With Sarah's family in their paradisical gardens near Le Vigan, Cevennes.
Finally, Sarah's parents Jean-Louis and Noelle took us around their "narrative garden", talking about homemaking as the cultivation of a harmonious relationship with and between what is planted and what is self-sown – a process that, according to Jean-Louis, "must never be finished".