A special tradition has taken root at Gomde Denmark at Easter time: Erik Pema Kunsang's annual meditation retreat for everyone – new and old meditators, Buddhists as well as non-Buddhists, Danes as well as English-speaking guests.
The whole thing is a bit of a feast. Clear light of early northern spring. A sweet Dharma center and temple in Denmark's most beautiful nature. Beaches, hills, forests, budding fruit gardens. A colorful assembly of dedicated participants. Not to forget, a musical kitchen team. At the heart of it all, Erik's teachings that seem, paradoxically, to be moving backwards towards the more and more fundamental rather than forwards to something advanced. This year is no exception. The course description in Gomde's official program goes "The first two steps on the path of meditation: 1) finding our inner seat, 2) making room in ourselves".
Elementary, right? Perhaps something you've been doing every day for decades, like me? And yet, paradoxically, the further back to basics these teachings move, the more depth emerges from in there.
Not that every structure dissolves. There are teaching hours, meditation sequences and periods of silence all right – enough to be a bit of a challenge, in fact. But the beauty is that the direct, totally available, step-by-step itinerary of teachings and dialogues that makes everything more and more accessible to newcomers, year by year, also makes it more and more fascinating and groundb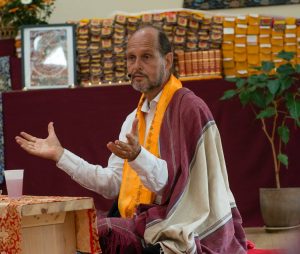 reaking to lifelong practitioners — who tend to make up half of the crowd – and to come back again. The more totally well-known, the more wildly new.
I suspect this simple trick is exactly what makes these teachings surprisingly powerful and helpful: the ability and courage to go along with this paradox all the way. And then again, I suppose ultimately this can't be a special signature of any teacher, time or place. This paradox – this weird topography or topology where every true step backward is a wild step ahead – has to be the shape of the landscape of dharma itself. Now just appearing in clear northern spring light.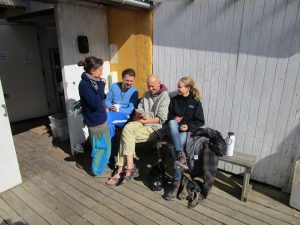 At one point I told Erik that something about his way of rendering dharma and meditation has this special bend or tilt or ring for me – cordial, easy-going, even playful – not solidly differing from other teachers but just making things a bit more organic. Being a philosopher I couldn't help noticing a peculiar style of formulating and using a range of familiar Buddhist concepts – places where things become a bit less solid – a bit more processual, relational and immanent – in Erik's formulations and approaches than anything I'd read or heard elsewhere.  I gave him a few examples of that.
Oh, he said – but I know exactly what that is – that's just Tulku Urgyen's touch.
Tulku Urgyen – Erik's teacher – as many of you will know he was a very special master in the Dzogchen tradition, famous for an ability to point students to the nature of mind, in a direct, easy-going, intuitive way. Unfortunately I never met him myself, but the after-image that I sense through many people who did, is one of great wisdom, so immersed and immanent in life that there is no need to look anywhere specific. As if hiding in the open clear sunlight.
So, yes –  I think that's it: Erik is developing a mode of teaching, a special tonality that is "just Tulku Urgyen's touch". The touch of wild secrets hiding in the open.
(For a closer look at this Easter secret, here is the event on facebook and here it is on Gomdes webpage.)